Emma.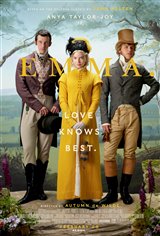 | | |
| --- | --- |
| Score: | 4 / 10 |
| Released: | |
| Director: | Autumn de Wilde |
| Producer: | Eric Fellner, Graham Broadbent, Pete Czernin, Tim Bevan |
| Studio: | Universal Pictures |
| Cast: | Anya Taylor-Joy, Johnny Flynn, Bill Nighy, Mia Goth, Miranda Hart, Josh O'Connor, Callum Turner, Rupert Graves, Gemma Whelan, Amber Anderson, Tanya Reynolds, Connor Swindells |
| Genre: | Comedy |
| Length: | 124 minutes |
write a review | read reviews | watch the Emma. trailer

Emma. Overview
Emma Woodhouse (Anya Taylor-Joy) lives at Hartfield, a fancy estate, with her father (Bill Nighy). Spoiled and pampered, she's aimless and needs something to occupy her mind and time. When her former governess (Gemma Whelan) marries Mr. Weston (Rupert Graves), Emma believes that because she introduced the two, she must have a talent as a matchmaker and determines to continue her good work.
Emma's next quest is to match her less wealthy friend Harriet (Mia Goth) to the young vicar, Mr. Elton (Josh O'Connor), even though Robert Martin (Connor Swindells), a respectable, kind farmer has asked Harriet to marry him. Meanwhile, as her neighbor and family friend George Knightley (Johnny Flynn) tries to reason with her, because he feels Elton isn't as good a match as Martin for Harriet, headstrong Emma insists she knows best.
Based on Jane Austen's classic novel Emma.
Showtimes
(No Showtimes Listings)