Heartbeats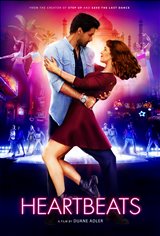 | | |
| --- | --- |
| Score: | write a review |
| Released: | March 9, 2018 |
| Director: | Duane Adler |
| Producer: | Andrea Chung, Karine Martin, Sriram Das |
| Studio: | Pacific Northwest Pictures |
| Cast: | Krystal Ellsworth, Amitash Pradhan, Paul McGillion, Prabal Panjabi, Salman Yussuf Khan, Justin Chon, Daphne Zuniga |
| Genre: | Drama |
| Length: | 107 minutes |
write a review | read reviews | watch the Heartbeats trailer

Heartbeats Overview
When Kelli's (Krystal Ellsworth) brother Henry died five years earlier, she tried to do everything she could to take his place in the family, including giving up dancing. When she goes to college, Kelli joins a dance troupe, but when her parents (Daphne Zuniga, Paul McGillion) find out she hasn't been attending school, they drag her to India for a wedding.

Once there, she encounters a new style of dancing and is immediately intrigued, especially when she's invited by one of the male dancers, Aseem (Amitash Pradhan), to join in. Impressed by Kelli's skills, Aseem invites her out with his dance crew the following night at a club, saying they could use her help. At the club, the dancers put on a modern show, incorporating street dancing into their number, which is performed to a rap tune. 

She begins training with Aseem and finally stands up to her parents, telling them it's not up to them to decide whether she returns to dance or not. Meanwhile, she's developed feelings for Aseem, but has to return to America in just a few days.
Showtimes
(No Showtimes Listings)