The Call of the Wild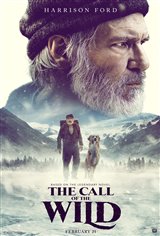 | | |
| --- | --- |
| Score: | 8.67 / 10 |
| Released: | February 21, 2020 |
| Director: | Chris Sanders |
| Producer: | Erwin Stoff, James Mangold |
| Studio: | 20th Century Fox |
| Cast: | Harrison Ford, Omar Sy, Dan Stevens, Bradley Whitford, Karen Gillan, Cara Gee, Jean Louisa Kelly, Colin Woodell, Abraham Benrubi |
| Genre: | |
| Length: | 110 minutes |
write a review | read reviews | watch the The Call of the Wild trailer

The Call of the Wild Overview
A pampered dog named Buck is stolen from his cushy home in the warm south with the aim of being sold to be a sled dog in the frigid climate of the Yukon. There he finds a home with loner John Thornton (Harrison Ford), and together they head off on an adventure into the unmapped regions of the land.
In the wild lands of the Yukon, the duo find friendship, and their mutual courage in facing all the dangers that nature has in store for them. From avalanches to wild animals, the two are in for the adventure of a lifetime.
Based on the novel by Jack London.
Showtimes
Click on a number to locate your theatre on the
map
below
Showtimes in theatres in a 60kms radius of White Rock, British Columbia
Click on a number to locate your theatre on the
map
below